Social Media Is the Key to Unlocking Your Personal Brand
June 22, 2022

Google yourself. 
Just hear me out. What kind of results do you get? 
 
Luckily, when I Google myself I'm the first person that pops up, including my Instagram channel, LinkedIn, and personal website. This is because I've worked on building my personal brand and online persona for quite some time now. 
 
The last two years have showcased an undeniable need for building your professional digital presence, or as I like to call it, your brand. 
 
Yes, you have a brand!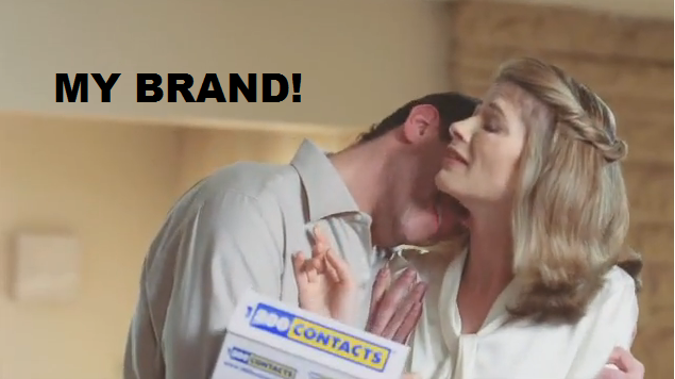 Through social media, we've managed to remain connected despite not seeing each other in person, and it probably brought us closer to people we may not have connected with otherwise. In my experience, social media brought me into a new job, helped me meet new clients, and exposed me to many outside-the-box creative ideas.
 
The task of managing your own brand on social media can seem daunting. You might be telling yourself, "I'm not a marketer," "I don't have anything to say on the subject someone hasn't already said," or, "Who's going to be paying attention to my posts anyway?" 
 
The answer is no one—if you don't care about the things you're sharing in the first place. We have a saying in theatre and that is, "It's always somebody's first show, and it's always somebody's favorite show." 
 
What you're sharing might be somebody's favorite type of content, or it might be the first time they're being exposed to your unique perspective, and those are reason enough to share. 
 
So I'm here to help you get to the core of what you should be sharing on your own platforms. 
 
"Your work speaks for itself, of course, but being active on social media and participating in relevant conversations online allows you to reinforce your digital professional brand and expand your network." — Everyonesocial.com 
Getting Started:
As you develop your brand, you need to gain a sense of what you want to share on your pages. 
 
Here are some questions to get you started: 
How do you make people feel, and how would people describe you?
Who inspires you and why? 
Do you have hobbies outside of work? Unique talents or skills? 
What values are most important to you, or are there any causes you're passionate about? 
Have any events in your life helped shape you? 
It's important to also know what you DON'T want to share. Some topics might be off-limits, and it's good to set that boundary as you plan.  
 
Between your answers to the questions above and acknowledging what you are not comfortable sharing, you can build your "Fantastic Four," the four main categories your content falls under. 
What you do for a living
Your values
Who you are outside of work 
How you want to make other people feel 
Mine might look something like this: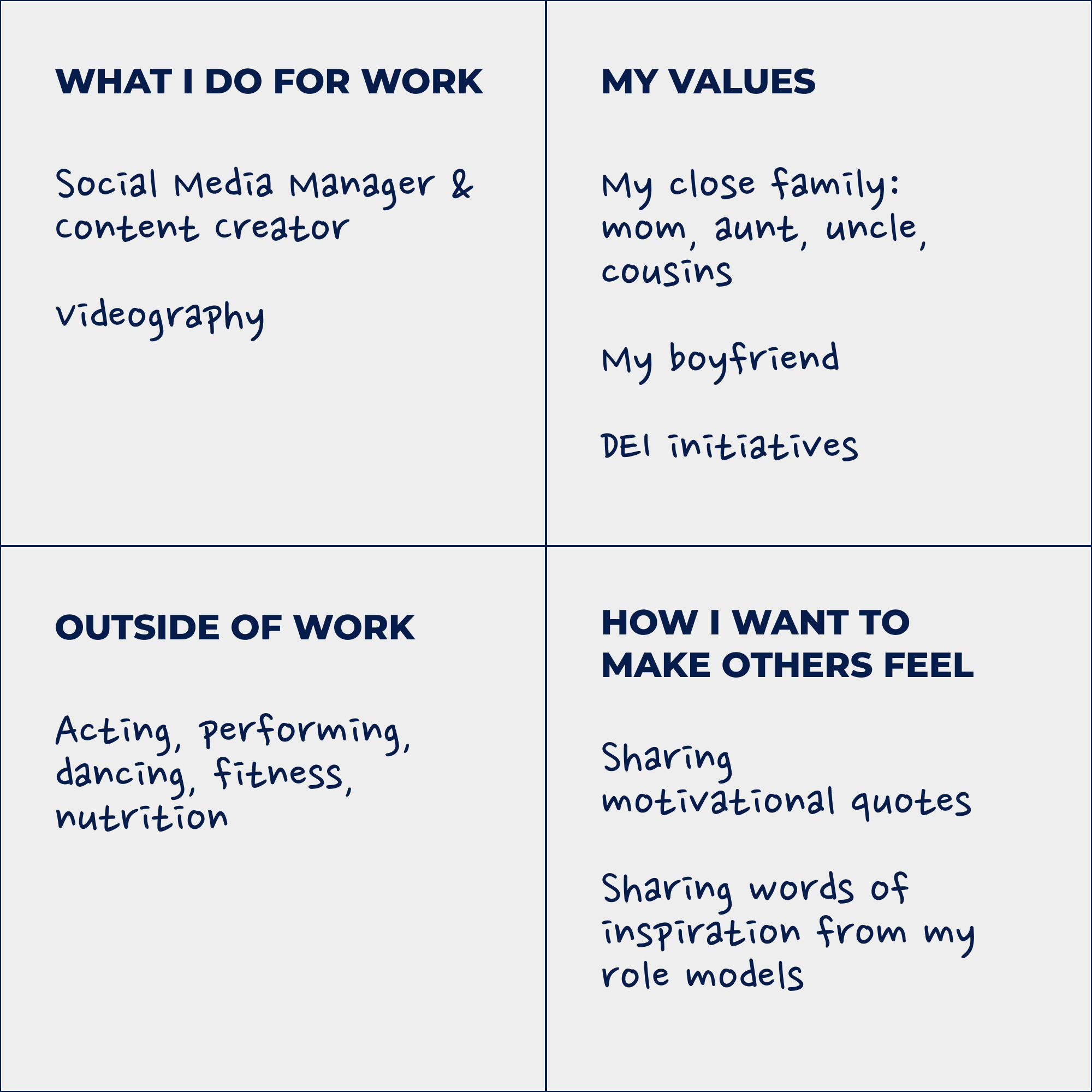 According to HubSpot, "92% of B2B customers are willing to engage with sales reps who have positioned themselves as an industry thought leader. This credibility is often attained by posting regularly to social media." 
 
If you're only ever posting about your work, that doesn't necessarily give your audience a look into your life. Following this simple method will bring about new unique connections and could lead to much more.
Tools for Scheduling Content:
Some of us don't have time to dedicate to branding ourselves on social media. We're all busy with work, some of us are parents or caretakers, and some of us are just burnt out. In order to successfully execute the content you want to share, decide how often you want to and feasibly can share. For some of us, it's three or more times a week; for others, we might be lucky if we share once a week on each platform. 
 
Start by taking an hour each month or maybe 20 minutes each week to dedicate to your posts and scheduling your content. I share my best content when I create a calendar for myself. If you know there's a special holiday coming up, maybe you're participating in a fundraiser, or perhaps there's a big tradeshow you're attending, these would each be posts worth crafting. 
 
I recommend using a platform like Trello, Notion, or even Google Sheets to plan, and then a free platform, such as Hootsuite, to schedule all of your content for the month so you don't have to stress! 
 
If you'd like to learn more tips and tricks on how to brand yourself on social media as a thought leader or industry expert, reach out to the ContentLabs team with questions at contentlabs@transperfect.com. We're happy to share resources or have a conversation on ways to improve your social game.