Preparing Compliant eCTD Submissions in Asia
August 2, 2021

Preparing Compliant eCTD Submissions in Asia
In May 2015, the US FDA published final and binding guidance requiring submission within 24 months of certain Common Technical Documents (CTDs) in an electronic format. This was ratified in 2017 and subsequently revised in February 2020 (Rev. 7).
Currently, other notifying bodies have followed suit (see table below), and while there are similarities in the CTD criteria, there are notable differences globally.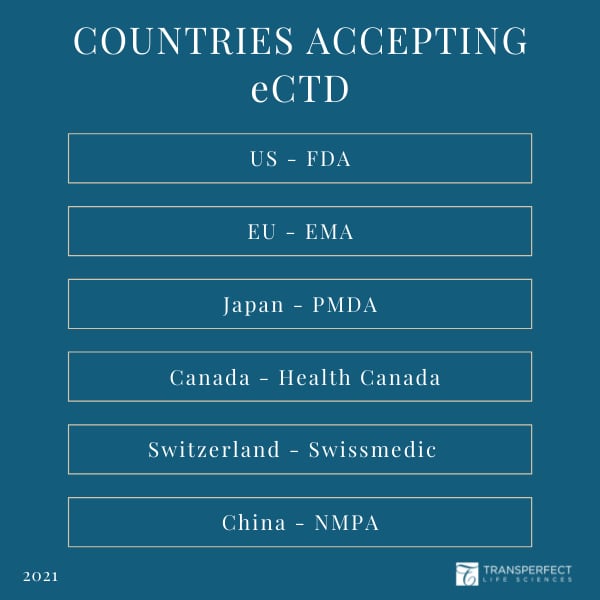 Submissions in China Compared to the Rest
Publications of the official specifications were expected in late 2019/early 2020 from the National Medical Products Administration (NMPA) and companies were expected to begin submissions soon after.
The adoption of electronically submitted documents is well-established and symbiotic for both pharma companies and regulators. A less arduous review process ultimately leads to fast approval and faster drug-to-market.
However, while in the US and EMEA Sponsors have already gained significant experience in submissions, certain countries will have to undergo a learning curve.
Indeed, Asian pharma companies have experience in submitting to EMA and FDA regulatory bodies and may have teams in market that can collate all of the data into the correct format; however, many Asian pharma companies would need to build a local team or use third parties to execute the submission.
The NMPA joined the International Conference on Harmonisation of Technical Requirements for Registration of Pharmaceuticals for Human Use (ICH) in 2017 and has adopted specification 3.2.2. This means that it will be more aligned with the FDA process, which makes sense because the FDA and NMPA already share certain standards in the clinical trial arena. However, it differs from the EMA model and distinctly from the Japanese submission process.
In the US and EU, regulatory operations teams handle the submissions. Asian companies might not have that skillset in-house yet. In the US, two teams traditionally handle submissions. The regulatory operations team handles submission while a different regulatory team handles regulatory affairs. Chinese companies have traditionally outsourced the eCTD process rather than build an in-house team.
The period from publication of the submission specification and the time when it becomes mandatory is an excellent chance to build preparedness. This honeymoon period will give companies and indeed regulators time to select, test, and validate tools and software for submission. It also gives them time to reach out to experienced third parties to leverage their experience and avoid mistakes in the process.
How to Prepare Submissions
Perform a Road Test
Repeatedly test the publishing solution required to handle specific Chinese eCTD demand. Consider executing a paper submission in tandem with the electronic submission to flush out as many errors as possible before going live.
Be Mindful
Make sure that an EU/US solution may not be able to handle the Chinese submission process. This is true as new conditions/amendments are added to the directive. Try to futureproof your solution as best you can.
Utilize Different Tools
You'll need different tools between Chinese and Japanese submissions, as they each follow a different set of regulations. Have a clear objective for each region based on the required submission format.
Employ an LSP
Your Language Service Provider (LSP), should have a deep understanding of the publishing tools, the rendering platform, and how double-byte Chinese characters should be rendered and submitted. English source documents must be translated into Chinese. English versions will be treated as reference material only. Titles for the eCTD Leaf must also be translated into Chinese.
Double Check Your LSP
Ensure that your LSP also understands the cultural differences. As with any region, a clear understanding of the culture and customs is key for creating an accurate and smooth submission.
Initiate Training
Training for new processes and technology is essential, with all of the training material translated and ideally administered via a learning management system (LMS) that can be precisely repeated.
Deploy Submissions
Submissions must be made via CD/DVDs. However, much like in other countries, portals and eSubmissions will be deployed going forward.
To discuss your eCTD submissions and translations, contact us today.