International Women's Day: Embracing Equity in Life Sciences
March 7, 2023

International Women's Day is celebrated annually on March 8 to recognize the social, economic, cultural, and political achievements of women worldwide. The theme for International Women's Day 2023 is "Embrace Equity."
Promoting gender equity across life sciences is essential to promoting inclusion and diversity. However, despite centuries of scientific innovations, women's work has often been overlooked or marginalized. Over the past few years, we have seen increased efforts to spotlight the role that women have played in the innovations and pivotal findings within the industry. For example, Rosalind Franklin's work on X-ray crystallography was instrumental to the discovery of the structure of DNA, but her contribution was largely overlooked during her lifetime.
In today's market, women continue to make significant contributions to a wide range of fields, including genetics, neuroscience, and bioengineering. An example of this is Emmanuelle Charpentier, a microbiologist at the Max Planck Institute for Infection Biology, and Jennifer Doudna, a biochemist at the University of California, Berkeley, who were awarded the Nobel Prize in Chemistry in 2020 for their work on the development of the CRISPR-Cas9 genetic editing tool.
Despite these improvements, women continue to face systemic challenges in the pursuit of innovation. One significant challenge is the underrepresentation of women in leadership positions within academia and industry. Academically, women are underrepresented at all levels from undergraduate students to full professors. In 2020, a study published in the journal PLOS Biology found that women comprise less than 30% of faculty in life sciences departments at top research universities in the United States. This underrepresentation is particularly pronounced in leadership roles, with women comprising just 19% of full professors and 15% of department chairs.
Let's assess these inequalities and analyze just some of the potential root causes that may be deemed responsible and even catalytic in perpetuating them:
Bias and Discrimination
Bias and discrimination are significant challenges for women in life sciences. A study by PEW Research found that women are less likely to be offered jobs in science, technology, engineering, and mathematics (STEM) fields, and they are often paid less than men for the same work. Furthermore, women have reported widespread bias and discrimination in the workplace, including sexual harassment and exclusion from professional networks and opportunities.
Underrepresentation in Leadership Positions
Women are significantly underrepresented in leadership positions in life sciences. According to a report by the New England Journal of Medicine, women hold only 21% of full professorships in medical schools, and only 16% of department chairs in the biological sciences are women. This underrepresentation is due to various factors, including bias and discrimination, the "leaky pipeline" Phenomenon (i.e., the proportion of women decreasing with each career level), and a lack of support and mentoring for women in STEM.
Work-Life Balance
Work-life balance poses a significant challenge for women in life sciences, particularly for those with caregiving responsibilities. A report found that women in STEM fields are likely to experience work-family conflict, which can lead to decreased opportunities for career advancement, more burnout, and decreased job satisfaction. This challenge is compounded by the long hours and demanding schedules often attributed to mid-senior level roles across the industry.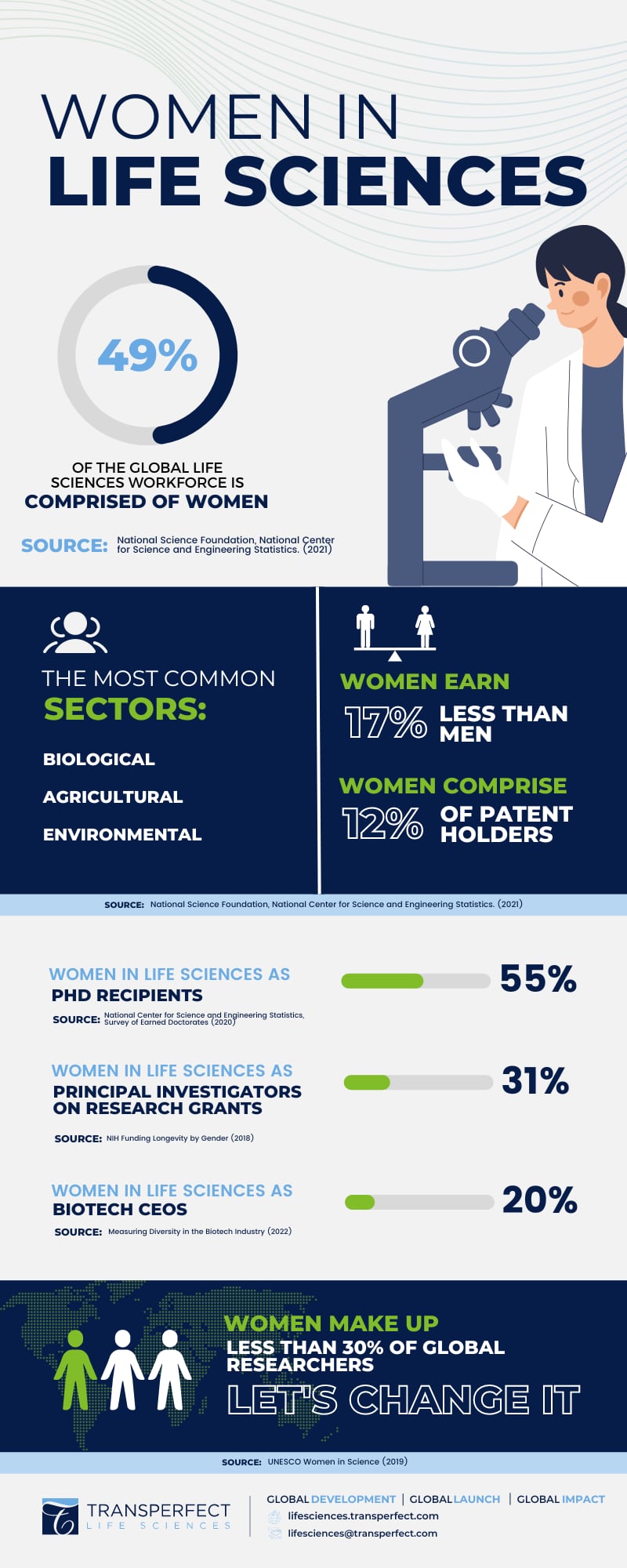 Working Toward a More Equitable Future
These challenges can often be complex to confront, especially with years of inequity to unravel. However, many industry-leading companies have begun implementing strategies and organizations to level the playing field and empower women with the same access to opportunities as their male counterparts. For example, the Association for Women in Science was established to provide support and advocacy for women in life sciences. Additionally, initiatives such as the National Institutes of Health's Enhancing the Diversity of the NIH-Funded Workforce program and the National Science Foundation's ADVANCE program provide funding and support for efforts to increase diversity and equity within STEM fields.
Such steps may involve introducing:
•    Support and mentoring programs
Organizations can take steps to address gender stereotypes and biases that prevent women from advancing in their careers. This may consist of introducing training programs, including unconscious bias training, and creating a culture that values diversity and inclusion. Additionally, mentorship and sponsorship programs can help women gain access to networks and opportunities that can lead to career advancement. Senior leaders within the organization can serve as mentors and sponsors, helping women navigate the organization and identify opportunities for advancement.
"Being involved in the Working Women, The Working Women affinity group committee and a co-founder of the Family Support program have allowed me to grow my own support group of amazing women within the company while also allowing me the opportunity to pay it forward to other women through our mentorship programs. There is truly no better feeling than being able to mentor a junior hire to become more confident and achieve her first job promotion or supporting a mom through an exciting and daunting time in her life, both personally and professionally." —Cyndi Freshner, Senior Director, Sales Training & Development, TransPerfect
•    Diversity, equity, and inclusion initiatives
With an emphasis on diversity, equity, and inclusion (DEI), these initiatives aim to improve the representation of women and other underrepresented groups in STEM fields through recruitment, retention, and advancement programs. This may encompass improving recruitment and hiring practices, creating mentorship and sponsorship programs for women, and providing training and support to promote work-life balance. These initiatives can empower women to advance in their careers, develop the skills and networks they need to succeed, and contribute to creating a more diverse and innovative life sciences industry. Ultimately, a diverse and inclusive workplace is universally beneficial, as it creates a dynamic and innovative workplace culture conducive to transformative research and clinical breakthroughs.
 "As a working Asian-American woman surrounded by strong and empowering women every day, I celebrate International Women's Day to remember our footprint and the strides we've taken to secure opportunities and break down barriers. Having immigrant women family members and friends, I know that fighting for equity in life sciences is crucial, specifically to the underrepresented and marginalized. Dedicating my work to ensure that diversity, equity, and inclusion spans across the life sciences space and beyond is what keeps me going, and I hope to create a rippling effect." —Julie Pham, Business Development Associate, G3 Translate
•    Work-life balance policies
As mentioned above, one major pitfall that can prevent women from advancing in their roles is a constraint to their work-life balance. Employers looking to bolster their equity policies may decide to offer flexible work arrangements such as telecommuting, flexible schedules, job sharing, or part-time work to help women balance their work and family responsibilities. This can help women continue to progress in their careers while still fulfilling their caregiving responsibilities.
Furthermore, initiatives such as paid family leave policies can help women take time off work to care for newborns, sick family members, or their own health needs. In doing so, they'll be able to alleviate some of the stress and pressure associated with trying to balance work and family responsibilities.
"Work-life balance has looked different at various stages of my career, but there has always been one important constant—I work best when other aspects of my life (relationships, hobbies, mental health) are in equilibrium. Being at a company that has allowed me to excel professionally and personally (currently raising young kids) by respecting flexibility has been a key factor in my overall work satisfaction. My hope is that all companies in our industry continue to #EmbraceEquity and provide a platform for all young women to advance their careers while fulfilling any caregiving responsibilities if applicable." —Jessica Peyser, Senior Director, Business Development, TransPerfect
•    Supportive workplace culture
Cultivating and facilitating a supportive workplace culture that values work-life balance and caregiving responsibilities can help women feel more supported in their career advancement goals. This can include flexible work arrangements, family-friendly policies, and promoting a healthy work-life balance for all employees. It can also involve creating a culture that values and recognizes the contributions of caregivers, both men and women.
With myriad challenges facing women in the life sciences industry, from unconscious biases and gender stereotypes to work-life balance issues, achieving equity seems like an insurmountable feat. However, there are solutions available that can help address these challenges and promote gender equality in the workplace. Such solutions include mentor and sponsorship programs, flexible work arrangements, diversity and inclusion initiatives, and supportive workplace cultures.
"The supportive workplace culture at TransPerfect has empowered me to do my best work and carve out a career path where I've been able to continually grow and develop both professionally and personally. As a leader, I strive for a work environment where teams value individual contributions and recognize achievements—this strengthens teamwork and prioritizes employee wellbeing. Our affinity groups play a key role in promoting this culture too. As part of the Working Women affinity group, I've forged strong relationships across the company, and I am proud to be a part of such a fantastic support network that celebrates and promotes women in business." —Aisling McCarthy, Director, Production, TransPerfect
Adopting these efforts as part of a broader equity strategy can attract and retain talented women, foster innovation and creativity, and ultimately create a more diverse and equitable workplace for everyone. It is essential to prioritize these solutions in working toward a future where women are fully represented and valued in the life sciences industry.

Interested in joining our diverse team? Want to learn more about how we support and empower women in STEM? Check out our open jobs here or get in touch for more information.