Digital Health Tools and Patient Support in China
January 5, 2022

Digital health has been a trending topic in the life sciences space, and has gained particular momentum due to the COVID-19 outbreak. In 2020, the global digital health market was valued at over $141.8 billion. This is expected to increase in value at a compound annual growth rate (CAGR) of 17.4% between 2021 and 2027.
Even before COVID, one market in particular has been leading the digital health revolution: China.
China's Healthcare Market
Over the next few years, China plans to invest $1.5 trillion to further advance its healthcare technology innovation. This will be the highest investment in tech of any other country worldwide.
Part of the Healthy China 2030 plan, this expenditure is intended to ensure health equity within China through technological advancement and improvements to the healthcare system. As part of this expenditure, China is investing a substantial amount in digital healthcare.
Despite having the largest population in the world, the majority of healthcare resources in China are located in only a few major cities. This makes it difficult for patients living outside these regions to seek medical care. Additionally, healthcare staff and resources are often misallocated or poorly managed, stretching facilities and staff thin.
Overcoming Challenges with Digital Health Technologies
There have been recent improvements to address these issues, including the development of doctor appointment registration systems and self-registration terminals to help reduce patient queuing time. However, even with these improvements, some patients may still need to travel long distances to access medical care.
This is where digital healthcare comes in. Remote diagnosis is an innovative way to provide better patient support to patients in more remote areas. Additionally, it enables more effective use of medical resources, thus relieving some of the burden medical staff face within these major hospitals.
In 2019, according to data from Future Health Index, 94% of Chinese healthcare professionals used either digital health technology or mobile health apps. For comparison, 15 other countries included in the data averaged only 78% usage of digital health technologies.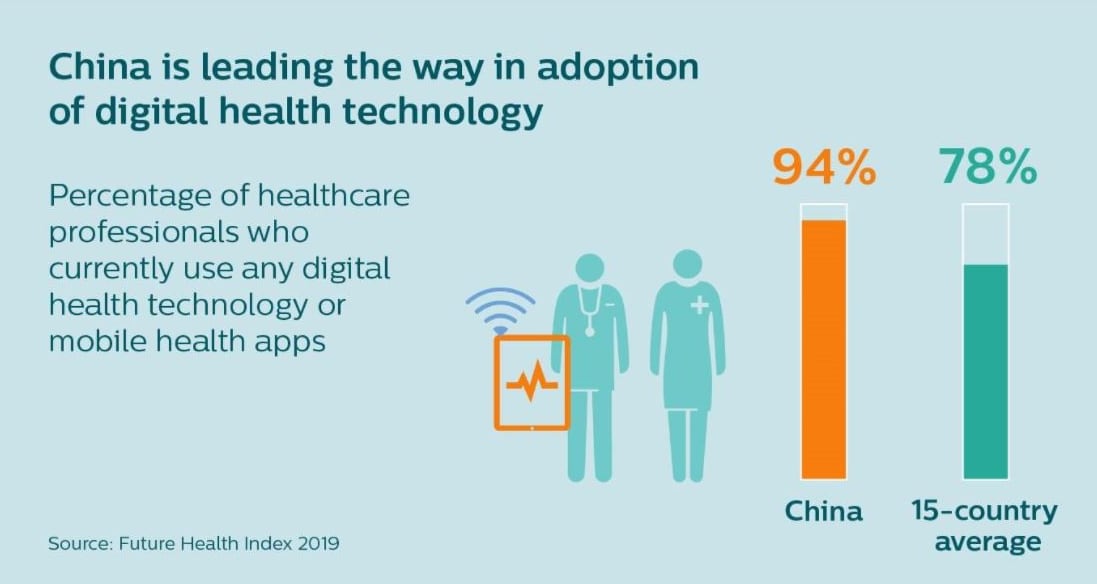 Benefits of Digital Health Technology for Patients
It's not just healthcare professionals in China using digital health technologies. Physicians and healthcare providers also encourage their patients to use them. Patients are asked to track their health data such as blood pressure, weight, and physical activity via wearable technologies and mobile devices.
By encouraging patients to take an interest in monitoring their own health, patients are more engaged with their health and treatment options. This can be clearly seen in China.
According to the same 2019 Future Health Index report, "Chinese citizens who use digital health technology or mobile health apps are more likely to have contacted a healthcare professional as a result of that data (80% vs. 47% 15-country average)." Further, from the 80% that contacted their healthcare professional, 58% said the digital health technology was the primary reason, and another 23% stated it was a minor reason.
Digital Health Technologies and the Future of Global Healthcare
With COVID-19 driving rapid change, digital health technologies are the future of healthcare globally. Physicians and other healthcare providers are better equipped to treat patients, and patients are incentivized to be invested in their own health outcomes.
China serves as a leading example on ways to implement and utilize digital health technologies for the purpose of improving patient support and, with it, health equity.
If you're interested in learning more about China's digital health market, be on the lookout for our next blog post. We'll identify a few key considerations for life sciences companies looking to implement digital technologies to support patients in China.
In the meantime, if you have any questions regarding TransPerfect Life Sciences' patient support or engagement services, please contact us here.