A Comparison Between Document Management Systems (DMS) and Component Content Management Systems (CCMS) for Pharma
March 22, 2022

Choosing the right option for you and your business needs
Global pharma companies produce and manage a lot of content that is complexly intertwined. To mitigate risk, ensure patient safety, meet regulatory compliance standards, and reduce cycle times for faster drug-to-market, pharma companies are continually looking for new technologies and processes to streamline workflow, reduce complexity, and reuse content efficiently. 
The most common technology platform used by clinical organizations to store and manage content is a document management system (DMS). A DMS is particularly good at streamlining workflow, and its content-governance capabilities reduce the complexity of managing content. However, as organizations seek to increase their level of content reuse, they are looking more closely at component content management systems (CCMS). We've outlined the general similarities and differences between a DMS and a CCMS to help you understand the best option for workflow, complexity, and content reuse in your organization based on current and future business needs.
What's a DMS? What's a CCMS?
A document management system (DMS) is a document manager that focuses on content at the file level (think Word or PDF documents) rather than the essence of the content itself. A DMS is a popular platform for various businesses across different industries, as it can limit access and updates to documents for junior staff, as well as track changes that more senior organization leaders can implement.
A component content management system (CCMS) focuses on content details rather than the files themselves on a more granular level. "Components" are singular details in the files and can range from conceptual topics to procedures to sensitive information (cautions and warnings) among others. A CCMS is great for content reuse, as content that must be duplicated across various documents, such as copyright disclaimers, can be saved as a single component that the corresponding other documents link to. This means that any changes to the disclaimer are then implemented across the other files, enabling greater content security and flexibility.
NOTE: there are other types of content management systems, too.
General Similarities between a DMS and a CCMS
Secured and centralized platform: A DMS and a CCMS are both secure platforms designed to centralize the management of documents.
The ability for review workflow and co-authoring: While a DMS is known generally as the go-to platform for workflow-driven regulatory approval, they are increasingly taking on co-authoring capabilities, too. Similarly, a CCMS has process automation capabilities suitable for pharma's need to expedite regulatory submission and meet compliance requirements. A CCMS also has the ability for Google Doc-like collaborative co-authoring in real time.
Version control: A large benefit for both a DMS and a CCMS is the ability to organize and track changes to documents to ensure alignment across teams. This is particularly important for global pharma companies conducting clinical trials across multiple regions, as it enables greater transparency on updates and changes made to the content.
Now that we have a solid basis for understanding the similarities between a DMS and a CCMS, let's dive into some of the key differences.
Key Differences between a DMS and a CCMS
Different types of content: A DMS manages documents such as PDF files, Word documents, etc. A CCMS manages content "chunks" that are in a markup language such as XML or html. In a CCMS, you create a document by pulling different content chunks together and applying a style sheet to create the formatting. 

Formatted versus unformatted content: A DMS handles formatted content (i.e., data and layout intermingled in one file) such as Word and InDesign files, PDF files, etc.; it does not understand the underlying formats of these files, so it cannot create or enforce any linkages between these files.
A CCMS handles format-neutral files (i.e., files containing unformatted text surrounded by mark-up that describes the structure of the text); it understands the underlying format of these files so it can enable and preserve any linkages between these files. It can also handle the formatted content usually managed in a DMS.
Structural rules and content links: While a CCMS and DMS can both manage Word/PDF/audio-video, etc., a CCMS knows how to look inside XML and HTML files to ensure they conform to structural rules and that linkages between documents are preserved. There are certain exceptions to this; some DMS vendors have tried grafting CCMS capabilities into their products. However, this can cause challenges in the DMS configuration. To give some context, a typical pharma document will borrow content from 10 other sources, which adds 10 times more associations to manage. A CCMS handles this increase in associations more easily than a DMS that has link-management grafted into it. A DMS adapted to this configuration requires more hardware processing power and resources to manage content as efficiently as a CCMS handling the same content.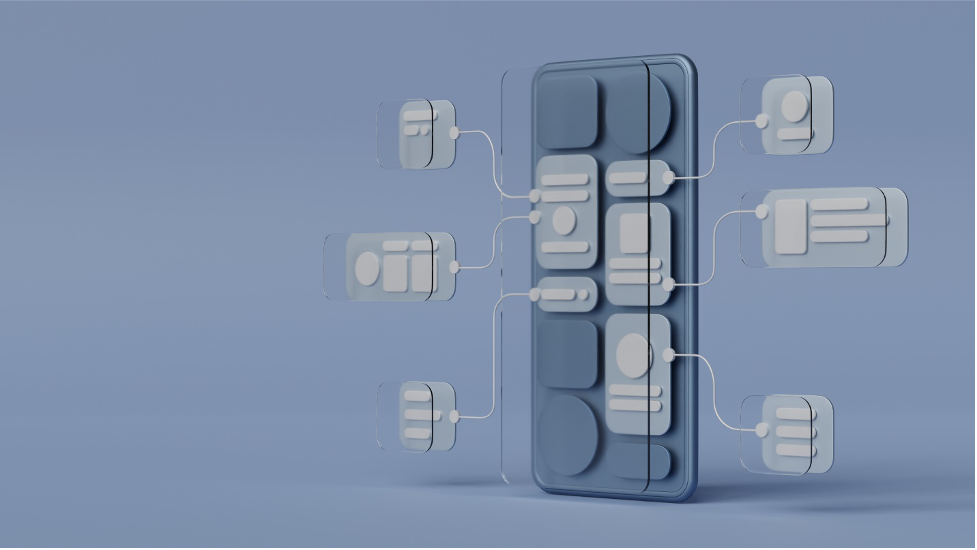 1.  Image illustrating linking relationships between content
A Hybrid Approach to DMS and CCMS
The pharma industry has awakened to the need for efficient content reuse, with "rip-n-replace" now recognized as the least productive approach. Organizations such as Transcelerate Biopharma, Inc., do a good job of describing the scale of the problem of content reuse and the benefits that pharmaceutical companies can leverage from it.
It's also important to acknowledge that in the clinical space, it may not be as simple as choosing one system over another. A hybrid approach focused on clearly identified roles for both DMS and CCMS systems can preserve investment in existing technologies while aligning with business needs for increasing amounts of content reuse. By acknowledging that current document-level technologies impose their own limits on the efficiency of content reuse, pharma companies are better positioned to evaluate which platform is suited to their needs, or if a combination of the two would be best.
Interested in learning more about content reuse and its benefits in the clinical space? Keep an eye out for our next blog, where we'll discuss the importance of utilizing a CCMS with multilingual integration capabilities for global pharma companies. Can't wait until then? Feel free to send us any questions you may have, or check out our website and learn more about our content reuse service offerings.