Dolby and Hiventy, Part of TransPerfect Media, Redefine the Visual and Audio Experience
A new era of cinematic creativity has begun with the opening of the first Dolby Vision HDR grading and projection room for cinema in France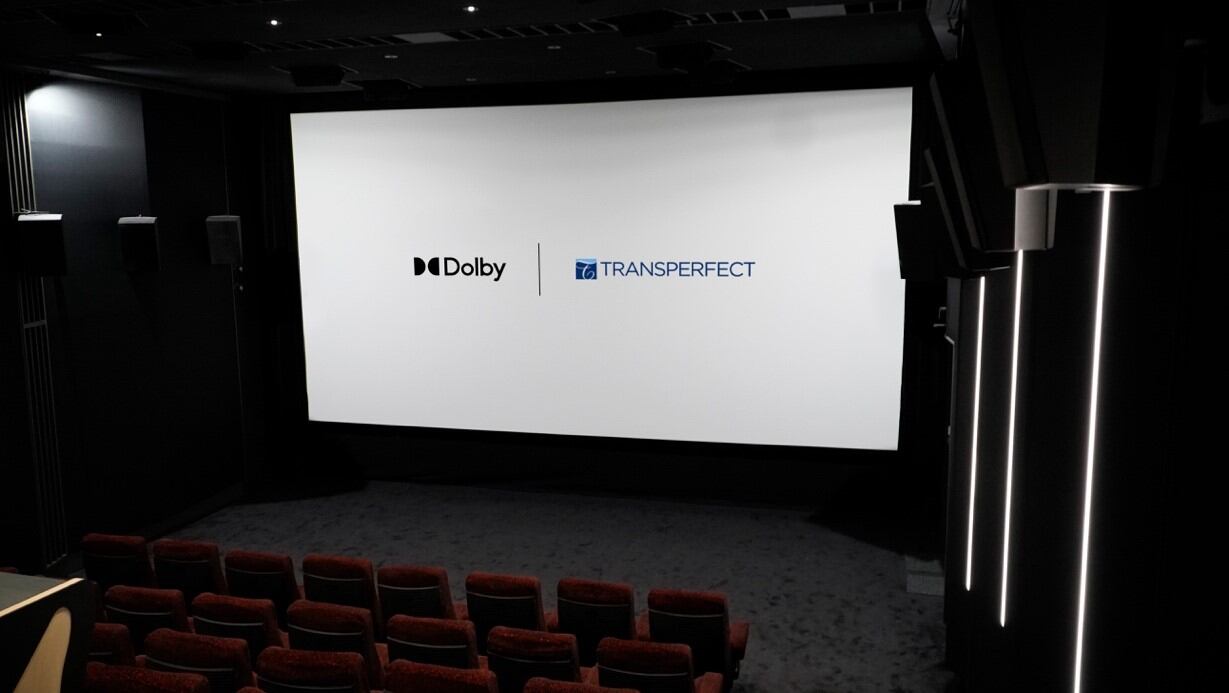 PARIS, October 12, 2023 - Dolby, a leader in immersive entertainment experiences, today announced its innovative collaboration with Hiventy, part of TransPerfect Media, a leading provider of localization, content, restoration and post-production services for the film, audiovisual, and multimedia industries.
This agreement marks an important moment in the French film and audiovisual industry, with the inauguration of the very first Dolby Vision® HDR grading and projection room for cinema in the country, and the only commercial one in continental Europe.
Since the integration of Hiventy in October 2022, TransPerfect Media has established itself as a leading player in the film and audiovisual industry in Europe, particularly in France, with 8 sites in Île-de-France and 3 in the regions. This merger is the catalyst for a bold and innovative transformation of the European film industry.
True to its commitment to innovation and quality, TransPerfect Media has decided to usher in a new creative era in collaboration with Dolby. One of the most exciting aspects of this collaboration is the opening of a Dolby Vision HDR grading room and Dolby Vision HDR and Dolby Atmos® screening room for cinema, in September in Boulogne Billancourt, near Paris.
This bold initiative reflects TransPerfect Media's commitment to providing creative professionals with the most advanced and sophisticated tools available, while remaining true to their artistic vision. Thanks to this cutting-edge facility, professionals in the film industry will benefit from an exceptional creative environment in which to sublimate their works and release them in premium Dolby Cinemas. There are 11 Dolby Cinemas in France and around thirty in Europe.
Why Dolby Vision?
Dolby Vision brings characters to life with darker darks, brighter brights, and a remarkable color range you can't get anywhere else. This technology allows directors and colorists to express their artistic vision with unrivalled precision and depth. As a result, viewers are immersed in the heart of the story, captivated by details and nuances you simply can't see with a standard picture.
Anais Libolt, Director of Audiovisual Services and Content at Dolby, explains: "We are delighted to see TransPerfect open this first Dolby Vision HDR cinema color-grading room. We hope that many French and European creators will take advantage of these tools to bring their images to life according to their aesthetic aspirations, supported by Hiventy's expertise. The venue will also enable professionals to view their work in the best possible visual and sound conditions."
TransPerfect Media's Hiventy: A Trusted Partner
With proven experience with Dolby technologies, Hiventy is well-positioned for this innovative initiative. Their expertise extends to the re-mastering in Dolby Vision HDR of iconic films for home entertainment or cinema, such as 'Asterix and Obelix: Mission Cleopatra' or 'Brotherhood of the Wolf,' as well as Dolby Atmos immersive mixes for cinema productions.
Barnaby Wass, Senior Vice President at TransPerfect says: "I am incredibly proud and honored to share the opening of our Dolby Vision HDR calibration and projection room (with Dolby Atmos sound), which is the first in France and the only one in Europe. I look forward to witnessing the elevated immersive experience we can now provide our clients and audiences across the globe."
The collaboration between Dolby and TransPerfect Media marks a turning point in the European film industry. It demonstrates a commitment to innovation, quality, and the cinematic experience. Creative people will have the freedom to bring their boldest artistic vision to life.
About TransPerfect Media
TransPerfect Media elevates storytelling for audiences around the world with media creation and globalization solutions delivered through a network of company owned and operated studios in 16 countries. TransPerfect Media's hybrid model combines cutting-edge technology with creative expertise, all managed in its cloud-based content creation platform, enabling simple localization and distribution.
By combining high-level talent with Dolby Atmos and Dolby Vision HDR projection capabilities, as well as services that include image and sound post-production, subtitling, dubbing, accessibility, voice-over, multi-platform delivery, preservation, and restoration, TransPerfect Media is where boutique expertise meets global scale and excellence to help you tell your story – in any language. To find out more, visit: www.transperfect.com/media.
About Dolby Laboratories
Dolby Laboratories (NYSE: DLB) is headquartered in San Francisco with offices around the world. From movies and TV shows to mobile applications, music, sports and games, Dolby transforms the science of sound and vision into exceptional experiences for billions of people around the world. Artists, scriptwriters, developers, businesses... we're working with everyone in the creative world to revolutionize entertainment and communication with Dolby Atmos, Dolby Vision, Dolby Cinema and Dolby.io.
For more information about Dolby Laboratories, please visit the following website: www.dolby.com
Dolby, Dolby Atmos, Dolby Vision, Dolby Cinema, Dolby.io and the double-D symbol are trademarks or registered trademarks of Dolby Laboratories in the United States and/or other countries. Other trademarks are the property of their respective owners.