Translation
Translation
TransPerfect was founded on a simple business premise: that unmatched quality and attentive client service could be competitive differentiators in the language services industry. Today, as the world's largest privately held provider of translation services, TransPerfect utilizes a rigorously tested network of industry-expert linguists and full-time quality managers to ensure that the work we deliver is second to none. TransPerfect offers multiple levels of service based on client needs, ranging from draft / summary translation up to certified translation, featuring our multi-step translation and review process to ensure the highest level of accuracy and meet the evolving needs of global businesses.
5000+ Native Speaking Linguists
Linguist Certification Program
ISO 9001 and ISO 17100 Certified
Translation Process
Certified Quality Assurance
Throughout the company's history, TransPerfect has shown an unmatched commitment to quality. As the first major language services provider to be certified to the ISO 9001 and ISO 17100 standards, TransPerfect is the undisputed industry pioneer in quality assurance. Our Medical Device Solutions division holds specialty certifications to ISO 13485 and ISO 14971. Additionally, TransPerfect also achieved ISO 18587 certification for its AI-Enabled translation services.
( Click to download certificate )
Click here to view the full range of Medical Device Solutions certifications
TransPerfect Linguist Certification Program
While various professional groups and organizations have historically provided credentials for professional linguists, none of these addressed critical elements of linguist performance like subject-matter expertise and overall competency — so TransPerfect introduced the TransPerfect Linguist Certification (TLC) program. The TLC program was the first comprehensive system to assess linguist skill in the areas that matter most to clients.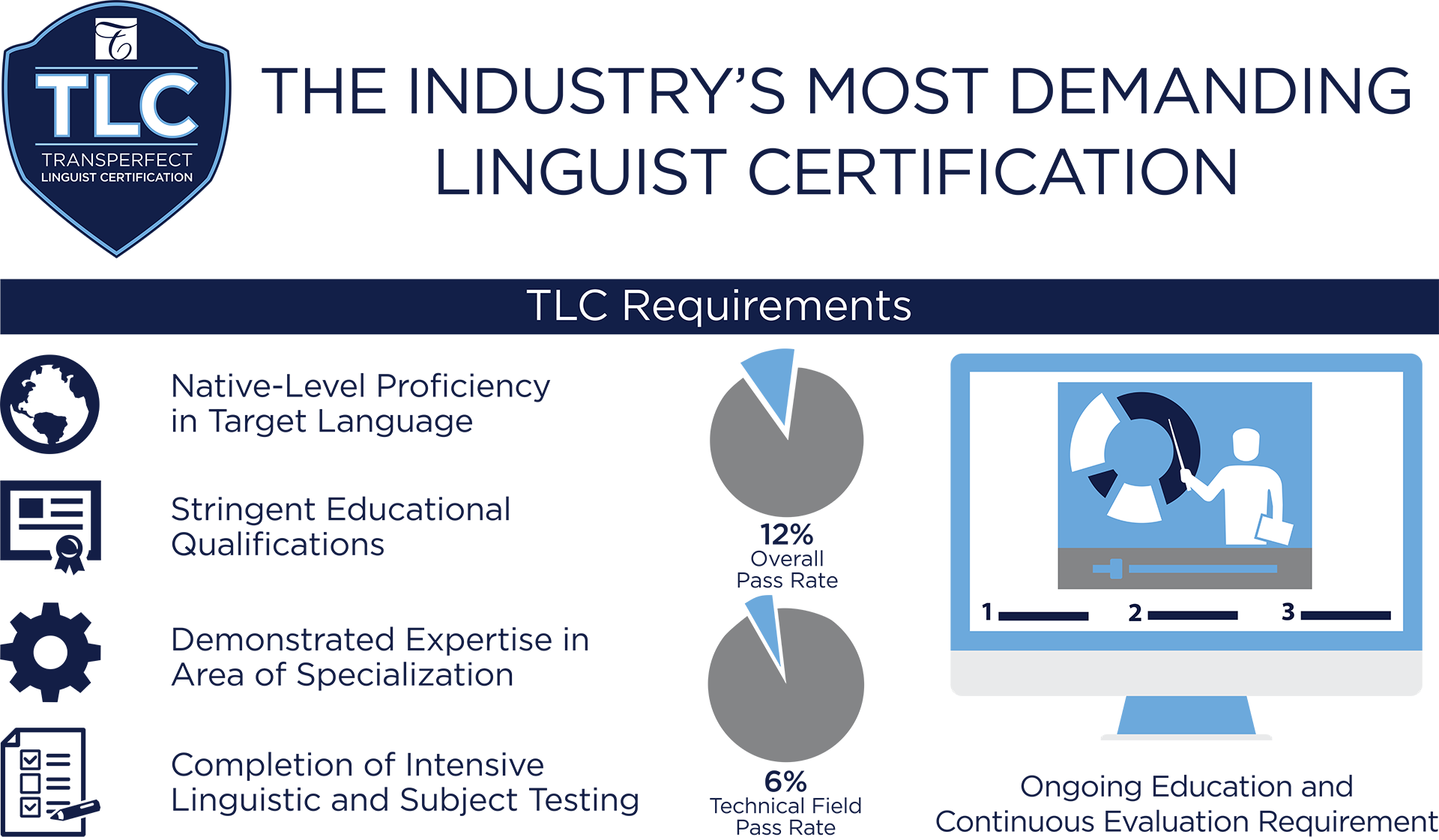 Download the TLC E-Brochure
Document Translation
While TransPerfect today is a diversified business solutions organization, our birth in 1992 was as a pure-play document translation service. Ever since, we've been the industry pioneer driving the level of quality and service increasingly higher. TransPerfect was the first major language services organization certified to both ISO 9001 and ISO 17100 as well as the first to offer a subject-specific certification program to assess both linguistic competency and industry knowledge.
No other language services provider can offer the capabilities that TransPerfect does to meet your multilingual challenges:
Rush Turnaround Times
High-Volume Requests
Highly Technical Materials
Certified Documents
Patent Translation
In an increasingly competitive global marketplace, expeditious translation and validation of patents can mean a difference amounting in millions of dollars in revenue. Regularly working with many of the world's top law firms, as well as the majority of Fortune 500 legal departments, TransPerfect is recognized for our unsurpassed patent translation turnaround times and unparalleled expertise. With over 45,000 patent documents translated, TransPerfect has the knowledge and understanding that only an experienced firm can offer.
Patent translation requires more than just familiarity with a particular language. The TransPerfect Linguist Certification (TLC) Program was designed to ensure that each project is handled by a professional linguist with expertise in the given discipline. TransPerfect provides you with access to thousands of language and subject-area specialists, including linguists with advanced degrees in fields such as:
Biology
Chemistry
Engineering
Physics
Computer Sciences
Machine Translation
Today's businesses need to juggle unprecedented volumes of content across a dizzying array of platforms and channels—and at lightning speeds. Plus, much of that content needs to be available in multiple languages. TransPerfect's GlobalLink AI practice is dedicated to helping clients future-proof their rapidly expanding content universe by combining best-of-breed neural machine translation technology with best-practice approaches for optimizing content and business processes.
Contact us to learn how a customized MT approach can be leveraged to maximize your global translation investment.
CAT Tools
TransPerfect utilizes leading computer-assisted translation (CAT) tools to facilitate reuse of previously translated content stored in translation memory (TM). TM helps organizations cut costs and timelines while improving overall translation consistency, and the benefits in these areas grow over time as TM assets grow and are augmented by tools including GlobalLink TM Server and GlobalLink Term Manager, which centralize TM assets and manage terminology glossaries, respectively.
Translation Management Technology
TransPerfect's GlobalLink translation management technology is a suite of modular applications designed specifically to alleviate manual project management burdens associated with the translation process. By streamlining workflows, giving stakeholders direct access to project status reports, managing review processes, and maintaining audit trails, GlobalLink simplifies the entire translation process, from submission to release. The end result is improved translation quality, expedited timelines, decreased workloads, and significant cost savings, which could potentially total in the millions of dollars.
Please click to visit the product page for each module.