Why Is Localization Important for Fintech Companies?
June 23, 2021

While the pandemic has had disastrous consequences on many industries, it's also had the opposite effect on others, accelerating businesses in the digital space.
In addition to a dramatic increase in Zoom meetings and TikTok dance routines, we saw a boom in fintech apps offering an easy way for customers to bank, invest, and save from anywhere in the world.
And this growth is set to continue.
The global fintech market was valued at nearly $130 billion in 2018. Now, it's expected to reach $309.98 billion by 2022—that's an annual growth rate of 24.8%.
For many early adopters, this is a welcomed shift from the high-street financial organizations that have often offered little customer convenience. For others, it feels like a risky move by the secure establishments they've always trusted.
There's an App for That!
It's a phrase many of us use frequently in jest. But with the digital space growing by the second, there truly seems to be an app for every part of our daily lives. Managing our money is no exception.
Without the requirement of physical brick-and-mortar facilities, the opportunity for worldwide growth for fintech companies is huge.
With global fintech adoption reaching 64%, and 96% of consumers having heard of fintech money transfer and payment services, more people are looking to these innovative companies to handle their finances.
Trust Issues
While the ease of quickly setting up an account and having around-the-clock support attracts many, billions of people remain unconvinced.
In 2019, 22% of non-adopters revealed that their decision to remain with their traditional financial provider was due to trusting it more than fintechs.
Data handling and financial security, among other security issues, are causing some consumers to avoid these new organizations.
So what can fintech companies do to earn trust and build a loyal customer base?
Talk the Talk
Customer relationships are paramount to any business, but they are particularly pertinent to the financial services industry, where trust is at the heart of every transaction.
One of the biggest ways that fintech companies can improve trust is to speak the language of their consumers. With 76% of people more likely to buy goods or services online from a provider that communicates with them in their own language, it's well worth the investment in providing an in-language mobile app or digital onboarding experience—especially for fintechs whose audience is inherently diverse or deployed across the world.
In the digital space, customers expect a seamless digital journey. When they are required to navigate a website or app in a different language from their own, it can cause confusion and frustration. But in the financial services space, it can also contribute toward distrust.
Fintech companies who aren't using localization as a key strategy to build trust are missing an important opportunity. This is also true for those who are currently only serving one region.
For example, in the United States, more than 41 million people speak Spanish as a first language (about 13% of the population), and that number continues to grow.
Walk the Walk
For companies looking to implement a localization strategy, having a true understanding of their target market is vital to success. Everything from adapting tone of voice for different cultures to having an understanding of the in-country regulatory complexities needs to be considered.
The best way to manage this is to work with a language provider that specializes in the financial services industry, being able to both guide and consult on process, as well as automate key localization elements for scale. Having the helping hand of an experienced team is worth its weight in gold.
As one of the world's most rapidly growing sectors, fintech also has to adapt to quickly evolving terminology and governance.
With almost 30 years' experience in translating financial content, TransPerfect subject-matter experts are specialists in the fintech space and can help manage the challenges that govern the online finance environment.
From app localization to customer support, video production, and digital content, TransPerfect's teams are prepared to help you every step of the way to ensure your customers trust in you.
We've put together this handy infographic for quick reference.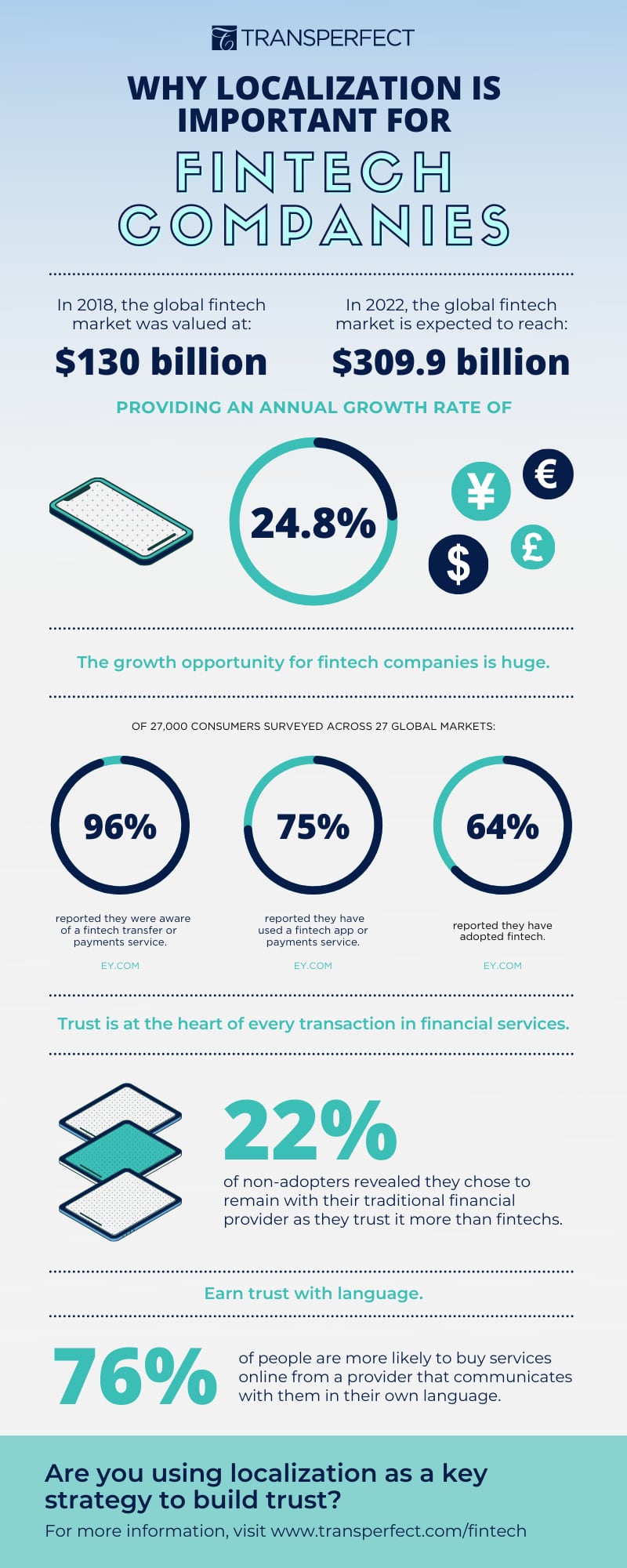 For a no-obligation chat to discuss your needs, contact us today.