Demystifying the 10 Most Common CMS Myths
November 28, 2014

The concept of a content management system (CMS) has been around for more than 20 years, and it has had a profound impact on the way content is published and edited. When managing a company's content, it's easy to get overwhelmed with files, coding, graphics and revisions. Using a CMS simplifies the content management process and provides a framework for keeping everything organized. It also streamlines collaboration among team members, so everyone can stay on the same page even when working in different locations.
If you're just learning about the CMS industry, there can be a lot of confusion about what content management software can and can't do. You may have also heard differing viewpoints and you're not sure what to believe. To clear everything up, here are 10 common CMS myths demystified. 
1) There's a Big Learning Curve
Some people are reluctant to use content management systems because they think it will take forever to figure all the features out and upload all of their content correctly. You may have limited experience with software and figure that a CMS is simply more trouble than it's worth. Although any type of software application will take time to fully grasp, our CMS is relatively easy to figure out. Even those with little to no existing knowledge can get the gist of a content managment system with some hands-on training, which Vasont Systems provides when you choose our content management system.
Whenever you do have a question, we have a help section on our website to help you quickly diagnose and solve the problem. Additionally, each client is assigned a dedicated Project Leader who is by your side every step of the way during the implementation process and beyond. In most cases, you can figure out the basics of a content management system within a few hours and be effectively using a platform within a week. Consequently, there's no need to worry about implementation, and setbacks are minimal. Even for the unsavvy team members, getting the hang of a CMS shouldn't be an issue.
2) You Can Only Make Text Updates
When unacquainted individuals picture inputting content, they may think that it's limited to only text. This couldn't be further from the truth because most platforms allow for multiple forms of content. For starters, images and multimedia files can be quickly and conveniently uploaded. They can be saved in the CMS along with the textual content where they can be retrieved with a simple search later on.
Because of the variety of media that can be uploaded and organized, you have a lot of flexibility with how you use a CMS. This ultimately means you can create media-rich content on a variety of mediums without a lot of hassle.  
3) A CMS Is Primarily Used for Blogs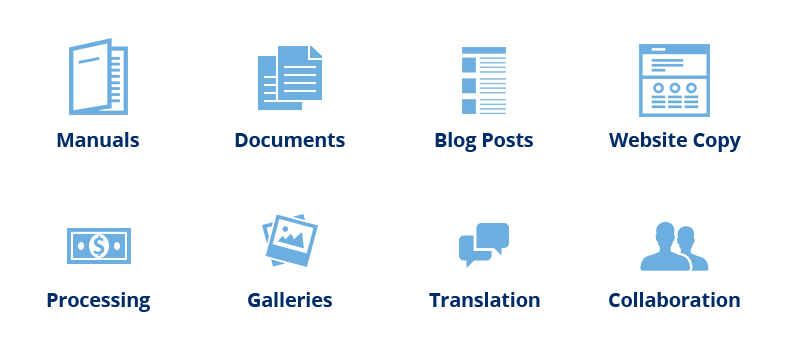 While the first thing that comes to mind for many people when they hear CMS is creating and scheduling blog posts, there are many more possibilities. For instance, you could just as easily use it for creating printed or digital manuals, collaborating on documents, and translating a piece of content to a different language. Because there are so many different types of CMSs, there are a plethora of options — you're by no means limited to simply producing online content if you choose the right CMS for your needs.
Many content management systems also include a range of tools so you can tailor them to your specific needs. At Vasont Systems, we offer built-in business logic that can be applied to the system to customize the CMS without changing the base code, so maintenance of the system remains easy. This business logic acts as customizations where users can apply them to their configuration. This tailors the CMS to do special processing, automate tasks, update attributes, and much more — saving time and money, and making content and processing more effective.
4) A CMS Requires Extensive Maintenance
One unfortunate downside to using cutting-edge technology is the IT manpower that's often involved with maintaining it. Consequently, you may be turned off by the thought of having to invest significant time and money into keeping a CMS functioning properly. However, when you choose the right platform like the Vasont SaaS CMS, maintenance is actually rather simple because our professionals take care of the maintenance for you.
For instance, our hosted CMS solutions provide a significantly smaller investment in IT staff, software and hardware. You can access a Web-hosted data center, and you won't need to invest in additional support staff. This will give your IT team more time to complete other tasks, and you'll minimize your IT expenses overall.
If you're worried that a CMS is going to be a drain on employee resources, there's no cause for concern. In fact, it should be exactly the opposite because your team members will be able to accomplish more tasks in less time. Content management systems reduce task redundancy, things that were laborious and time consuming in the past, can be completed with a much higher level of efficiency.  
5) Software Can't Accommodate Multilingual Content
Because of today's global economy, it's becoming more common for companies to market their products and services internationally. As a result, this can cause a dilemma where progress is inhibited due to language and cultural barriers. If you thought a CMS wasn't capable of unifying the company with customers in different countries, you'll be glad to know that the Vasont CMS software supports content in any language.
There is now sophisticated software that can greatly improve marketing to different parts of the world. Through translation management, you can effectively translate content into multiple languages to accommodate the needs of your global customers.
In the past, this was often an arduous process that could rob businesses of valuable time. Fortunately, translation cycles can now be completed at a fraction of the time.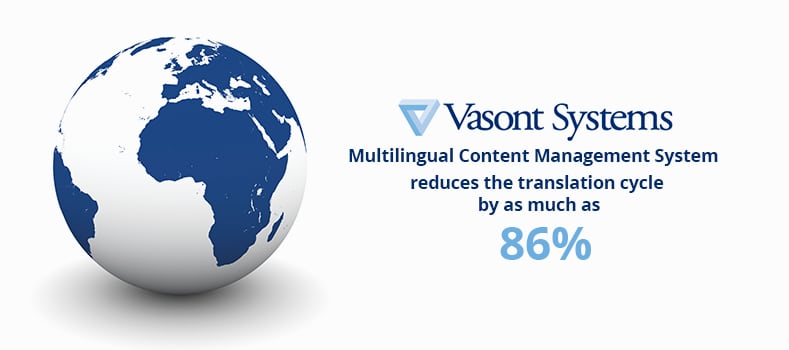 Vasont's multilingual content management system reduces the translation cycles by as much as 86%. You'll reduce your labor costs and influence your business's bottom line. Keeping up with the increasingly globalized economy will only continue to become more important, and it may mean the difference between growth and stagnation for your company.  
6) You Can't Publish to Mobile Devices
In this day and age, mobile use is at an all time high. Internet users spend nearly 40 percent of their time browsing the web on tablets and smartphones, so it makes sense that many organizations will need a platform on which they can publish content to mobile devices. The vast majority of content management systems now have capabilities to publish to these devices. Since so many people are relying on their mobile devices to research and buy new products and services, it's important for organizations to distribute their messaging to these devices in order to reach this mobile audience. A CMS can minimize the time it takes to get accurate content out to mobile platforms.
7) There Are Major Security Threats
Just like with any platform where information is stored and exchanged electronically, people are probably going to have security concerns with content management software. This is understandable considering all the reports of cybercrime and electronic content that's stolen on a regular basis. In fact, the thought of having sensitive information stored electronically can be a big hurdle for many people to get over before even considering the purchase of a CMS.   
While you can't eliminate threats altogether, most systems take security very seriously and go to great lengths to keep their clients' data safe. One example is user authentication with password length and complexity requirements to keep unauthorized individuals from accessing your central repository. The Vasont® Content Management System takes it one step further with a Content Control feature that provides immediate notifications to content owners when changes occur. This safeguards content from unauthorized changes, protecting your work. If there's any suspicious activity on your CMS, you will be alerted right away so a small issue doesn't become a major one.
The bottom line is that any legitimate system, such as the Vasont CMS, will have extensive security parameters in place to protect your content and prevent unintended parties from accessing your critical content assets. That way you can go about your business with the peace of mind that everything is protected. For a service as a software (SaaS) platform, everything is backed up virtually, so you don't have to worry about information being lost or destroyed like it could be with paper documents or a hard drive.
8) A CMS Is Expensive
Some prospects may also doubt they can afford content management software because of a limited budget. The truth is that many platforms are less expensive than you might think. Depending upon the extent of features and how many technical writers and editors you have, there can be a disparity between different products. Luckily, there is a large degree of variation, so you can find something that meets both your needs and your budget. Some CMS platforms come with lots of scalability, which means you can grow over time.
Also, most companies are willing to work with you to create the best CMS system for you and your company. If you do your homework and look around at several systems, there's no reason why you can't find something within your price range that fits all of your specifications. You also have to take into consideration the long-term money you can save from your return on investment. In fact, studies of the Vasont CMS over a ten-year time period found that their clients witnessed: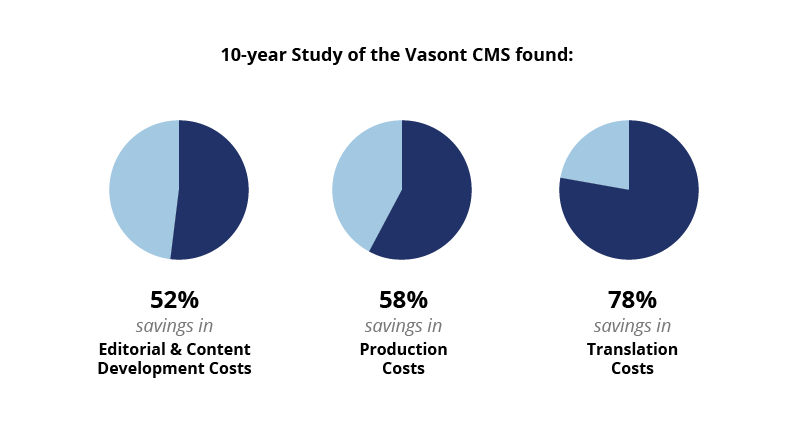 Besides this, there can be a significant increase in efficiency. Studies found:
59% reduction in editorial cycles
85% reduction in production cycles
80% reduction in translation cycles
55% less resources produced the same volume of work due to content reuse rates of 62-93%
Consolidation of IT and operations resources
9) It Can't Be Integrated with Existing Business Systems
If you're currently using a different business system, you may be wondering if a CMS can be integrated with them. Even if you can, you might not want to deal with the perceived complications associated with integration. Fortunately, making the transition doesn't have to be difficult when you choose the right platform. By using an application programming interface (API), a CMS can be integrated with relative ease. There will be no changes to the CMS's base code, just the integration of API development.
This is ideal if you're already used to other business systems because you don't have to make any radical changes. Instead, you can have the best of both worlds: You'll have full use of existing software combined with the efficiency of a CMS. That way, you can make things simple — not more complicated.   
10) A CMS Isn't for Small Companies
Some people are under the impression that content management isn't a viable solution because they're only running a small-scale business and don't have a massive volume of content like much larger businesses. They may think that it's only useful when new content is created multiple times per week and that a CMS would be overkill. Whether you're creating new product pages, writing press releases, or updating promotional content, a CMS makes it much easier to keep track of everything from a central location.
Small businesses can streamline content organization, and team members can make better use of their time. You also have to take into consideration the potential for growth. Even if you're running a micro-enterprise at the moment, you never know where you may be at a year or two down the road. As your business expands, a content management system should prove useful for minimizing growing pains. Regardless of the size of your company, implementing this type of platform can simplify your life, as well as the lives of your team members.   
Making an Educated Choice
When it comes to making the choice to invest in a content manager system, it's helpful to know all of the facts. You shouldn't be misled by certain myths that are outdated or simply untrue. Content management systems are growing in popularity because they make users' lives easier and more convenient.
While there may have been limitations during the infancy of these platforms, they have evolved significantly to meet the demands of almost any user. Hopefully, by busting through these 10 myths, you can make a more educated choice on whether or not you want to implement a CMS. If you're interested in learning about the Vasont CMS and how your company can better organize your content, we can help you get started.