Join the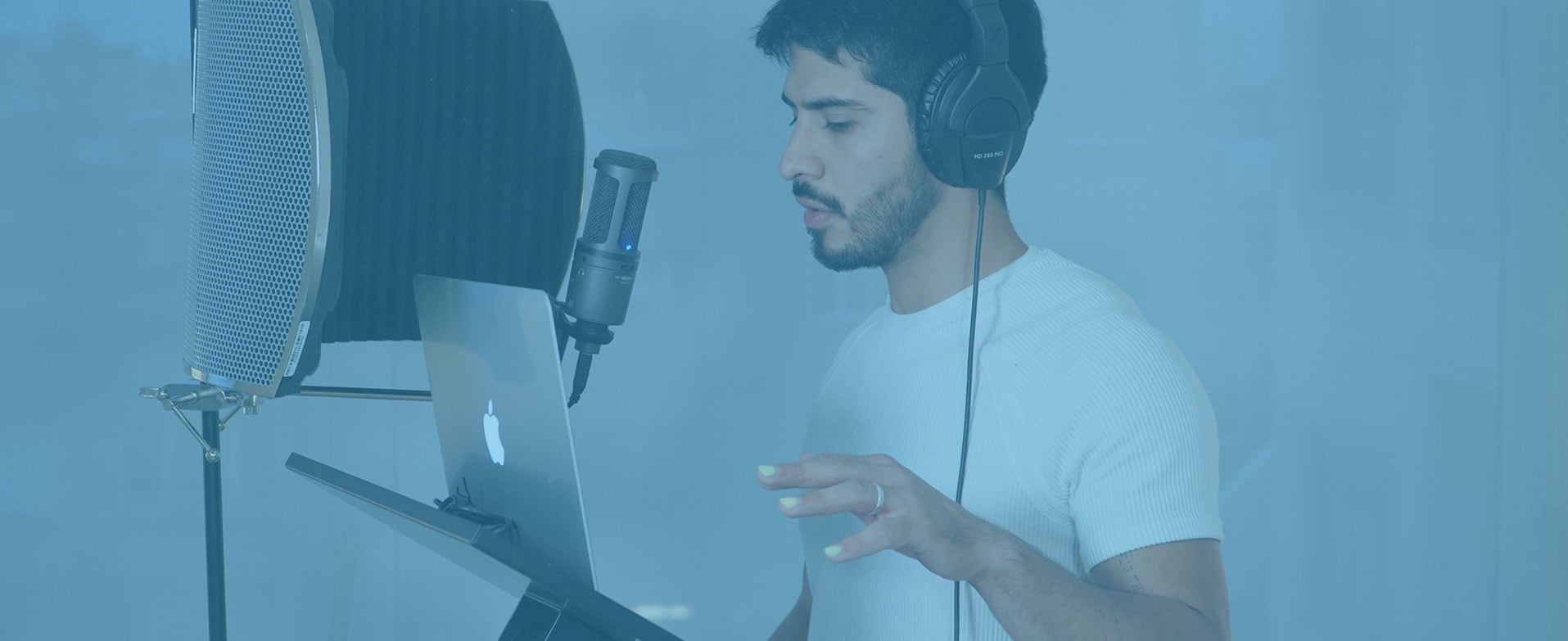 Become a voiceover or dubbing artist and work from home
You will learn the art of voiceover and dubbing and be immersed into the ever-thriving media and entertainment world.
The MediaNEXT Dubbing Academy provide you with all of the training, tools, and exclusive access to our StudioNEXT platform; everything you need to become a successful voiceover or dubbing artist.
Our mission is to develop a new, innovative, and geographically unrestrained network of VO artists and dubbing actors. We help new talents that have a passion for TV, documentaries, and cinema and who are interested in recording their voice using the StudioNEXT recording technology to become voiceover and dubbing artists. Our technology and its cloud-based workflow guarantee high-quality audio localization worldwide and allow talents to record themselves from wherever they are.
To achieve optimal performance as a dubbing artist, you will need a microphone (required), mic screen, mic stand, and an isolation shield. If you would like suggestions on what equipment to purchase, we can provide a list after initial enrollment.
Sign-up now, for free, and gain access to our content library full of videos, articles, podcasts, glossaries, and more! Use the buttons below to Sign Up or Login to the Dubbing Academy
 
Students may have the opportunity to join the MediaNEXT Dubbing and Voiceover team, post-graduation.
Intro to Voiceover and Dubbing Course
Why the MediaNEXT Dubbing Academy?
Our Dean of Dubbing Jacques Barreau and his team of experienced coaches will show you different vocal techniques and needed equipment, as well as how to best use a microphone for voice acting. Furthermore, our technology StudioNEXT allows remote recording, which gives you geographic freedom to work whenever and wherever you choose. Our technology also enables recording using the rhythmoband technique, which is easy to use, reduces the recording time, and guarantees a very accurate synchronization. If you've tried voiceover work before, or have watched a poorly dubbed movie, you'll quickly appreciate the added benefit of this.
The Dubbing Academy Method
Our curriculum follows the blended learning approach, which enables student to learn online at their own pace and attend onsite workshops for more brand-specific coaching in dubbing techniques. The course will consist of a full e-learning course accompanied by relevant videos, articles, podcasts, online webinars and 1-on-1 sessions.
---
Phase 1
Becoming a Voiceover Actor
Module 1: A Brief History of Voiceover and Dubbing
Module 2: StudioNEXT and its Accessories
Module 3: Recording a Voiceover
During phase 1 you will be introduced to the work of voiceover and dubbing and receive a training on our StudioNEXT technology with all its accessories. This includes all tools associated with StudioNEXT to be able to record top-quality voice tracks. Toward the end of Phase 1, you will learn everything about how to record a voiceover. At the end of this phase you will know how to prepare a recording session, how to follow the original audio track, and how to choose the good take among the several ones recorded.
---
Phase 2
Becoming a Dubbing Actor
Module 4: Voice Placement and Control for Dubbing
Module 5: Acting and Performing for Dubbing
When dubbing or recording a voiceover, just reading a text is often not enough to deliver the message authentically. During Phase 2 of our course you will work on your voice and how to use it properly in order to enter the professional world. You will see how to define your voice, how to place it, how to change it, and how to play with it (just like you play a musical instrument). You will also focus on your acting and performing skills. You will need to read and act at the same time in order to deliver a credible performance–the audience will have to believe what they hear.
---