4 Ways You Can Optimize Your Mobile Learning
August 3, 2022

Over the past 20 years, the smartphone has become a necessary tool in most people's lives, especially in the corporate world. Due to this, the need for mobile learning has increased, and it's here to stay! Learners today not only look for education online, they also want it on the go.
There are major benefits to mobile learning; it increases flexibility for the learner, completion rates are enhanced due to the concise nature of mobile learning, it allows for self-paced learning, and it's also more inclusive, as not everyone has a PC or laptop that they can use to complete e-learning modules.
Here are the top ways you can optimize your mobile learning:
Context and Graphic Indexing – simplify format

How can we improve the quality of mobile learning and make it more engaging? The answer: Keep it simple.
 

Focus on the essentials: only add the most relevant pieces of information. It's sometimes hard to resist the urge to add everything, but in doing so you will negatively impact the learning experience.
 
Don't forget visuals: visual support is key when creating mobile learning. This can include everything from images and infographics to video. Visuals will save you a lot of space that you may have used for written text.
 
Don't overcomplicate: the fewer words, the better! 
 

Always test your learning before launching

There are a few important points to take into consideration when testing:
 

Functional Testing: Functionality plays a key role in user experience and learning effectiveness. For example, if you are not able to navigate, or a wrong pop-up window opens when you click a button, it hampers the learning. You must test all course material, including audio and visuals, and examine any functionality the course should have.
 
Multi-Browser/Device Testing: make your learning accessible across various browsers, platforms, and devices (mobile, tablets etc.).
 
SCORM Compliant: QA testing should involve testing compliance with SCORM and other relevant specifications.
 

Shortness of Content

Avoid using long paragraphs, especially when creating mobile learning. Employees tackling their corporate training have different goals and concerns than your typical student studying for an exam. Corporate learners want immediate access to relevant information that will help them excel in their roles within an organization. As such, the language must be concise, clear, and conscious.

If you stick to these principles, your learners will engage more easily with the material, as it's easier to connect with bite-sized chunks of information. 
 
UX is key—use a responsive template 

The primary purpose of user experience (UX) design in e-learning is to make it easy to navigate through the learning process, allowing the learners to concentrate on the content. UX design affects the level of user engagement and the accessibility of the learning experience.

User experience also ties heavily into the design of the training. If the design of the learning is not correct, it will hurt user experience. On the contrary, if the design of the learning is organized, simple to understand, and easy to grasp, then user experience will vastly improve. The key here is to have simple navigation with your training. Don't make things impossible to get to. Every part of your page should be clearly labeled on the navigation menu and placed strategically for the users. 

If you have doubts about your UX design, put in place usability testing, a process that involves watching a group of users interact with your learning program to see what works and what doesn't. 
Mobile phones have changed the world for the better—people are more open and connected than ever before. The nature of work is changing, and a well-planned mobile learning model can be an important step in helping employees adapt to the demands of today's working world.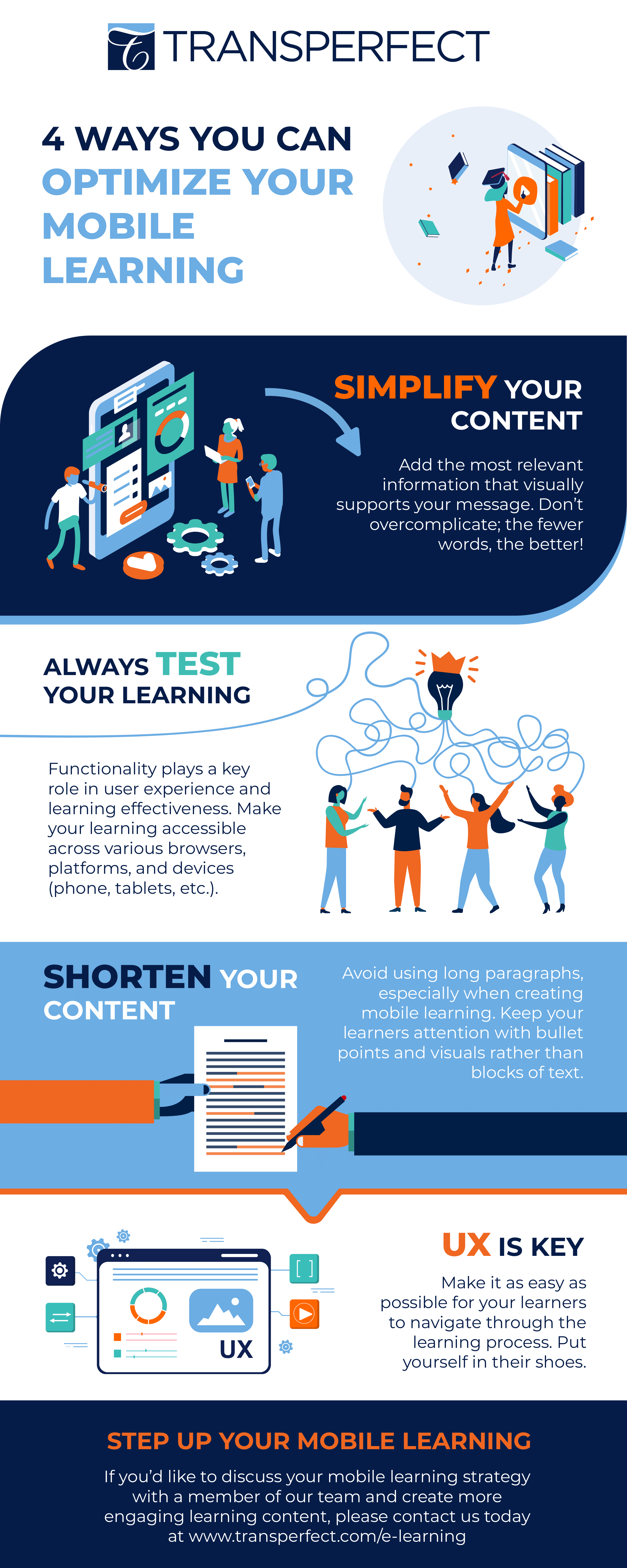 If you'd like to discuss your mobile learning strategy with a member of our team and create more engaging learning content, please contact us today.